Over recent years I have acquired a vast range of reed-making equipment, much of it for the sake of comparison whilst writing Understanding the Oboe Reed. This page will be renewed from time to time to show additional items that are no longer needed and are now For Sale.
Please email me with requests for a secure address at PayPal.
Please note: no trials and returns unless by special arrangement
(e.g. rare cor anglais crooks).
I am pleased to offer FREE POSTAGE in every instance.
FOR SALE
LORÉE COR ANGLAIS / ENGLISH HORN BELL
In the design of recent years, including a vent for low-B (optional: this need not be connected for older instruments; the pad remains closed). When exchanged for that of an earlier instrument, this bell can hugely enhance sonority and presence. Rewardingly resonant, with a beautiful swirl in the grain. Used professionally in the studio and in top London orchestras.
Preserves or refines intonation around Middle E and F.
Please email to request a trial. £500.00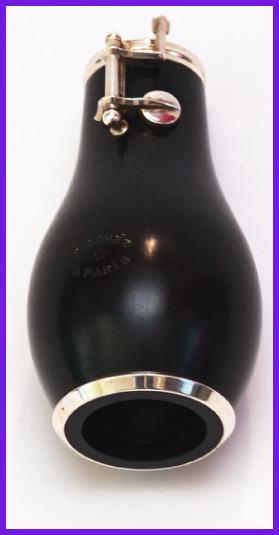 RIGHT-HANDED REED KNIVES
(See Graf, below, for Left-Handed too)
FREE POSTAGE
All knives have been fine-sharpened prior to sale.
1,2) Gregson #4 Bevelled Knives, 74 mm blades, fruit-wood handles
(New price, £78.00):
Two, new (though sharpened) each £59.00
4,5,6) Barry Chilton Bevelled Knives (77 mm blades)
These superb bevelled knives were the British standard before the Gregson knives became available.
2 used, in good condition, now straight facet £27.00
1 little used, still mostly hollow-ground £39.00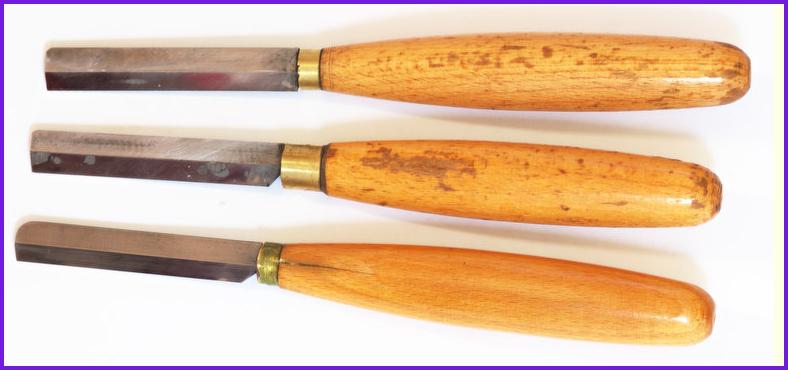 7) Jany Berthelot heavy (79 mm) bevelled blade, hollow-ground to a uniquely small radius, little used. A practical knife, especially forgiving when removing the bulk of the cane.
(New price: €67.50) £42.00
8) Graf (Swiss) folding double-hollow-ground heavy razor ("jack-knife")
(New price €157.50) Used, though blade still extremely sharp. £69.50
MAY ALSO BE USED LEFT-HANDED
11) Chiarugi Bevelled Knife, unused (New price: £22) £16.50
12) Vitry obtusely bevelled knife. Used. £8.50

13) SOLD
14) Rare and hard to obtain: highly sought after previously by such as Anthony Camden and Michael Winfield: a Sears Roebuck 4 3/8 inch 'Craftsman 18157' bevelled (plane?)-blade well balanced by a fruitwood handle. Precise, sharp, yet immediate and heavy all-purpose knife, beautifully balanced, to simplify the workflow. Little used, full of remaining life. £55.00
OBOE MOPS:
Two multi-coloured Helin Mops (silk?), for MIDDLE JOINT only.
Wire Handles. Unused. £6 for the pair
EASEL All Steel. 71.3 mm between end-stops. Very clean. £7.50
ELECTRONIC TUNER:
Seiko ST-747 Black. Used but clean, in box £ 7.50
REED BOXES 'leather'-covered, each for 3 Cor Anglais or Oboe d'Amore Reeds
(New price: € 35.00) 2, used but clean each £ 9.25
GOUGING MACHINE CARRIAGE PUSHER-ROD
5 mm ball on angled metal rod, set into fruit-wood handle £5.00
KNIFE-SHARPENING (HONING) STONES (
1) Hard Arkensas (Smith's) Oilstone 102*52 mm, in Wooden Box, little used: £17.00
2) India (Oil) Stones, two (202*52*26 mm) double-sided, well used, so smoothed and excellent for finishing. New price, £34.00) each £10.50
ALL WITH FREE POSTAGE